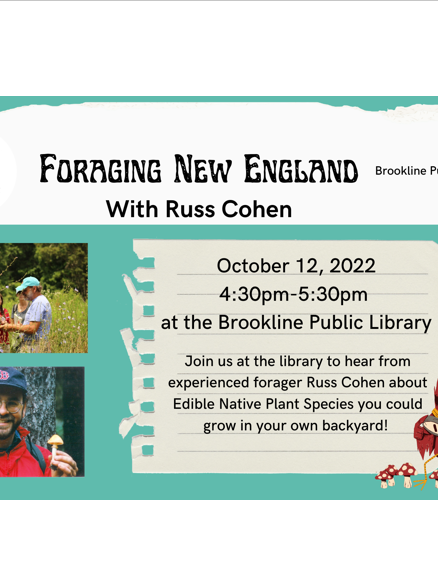 Join Russ Cohen, expert forager and author of "Wild Plants I Have Known…and Eaten," for a 60-minute slide show featuring at least two dozen species of native edible wild plants suitable for adding to your own landscape, or nibbling on as you encounter them in other locales. Keys to the identification of each species will be provided, along with edible portion(s), season(s) of availability and preparation method(s), along with guidelines for safe and environmentally responsible foraging. Russ will also include a few details regarding some native edible plants he has grown successfully from seed, and the partnerships he has made with conservation groups and others to add edible native plants to their landscapes. Last but not least, Russ will bring printed handouts along with samples of foraged goodies for folks to sip and nibble on.
A Bit About Russ:
Until his retirement in June of 2015, Russ Cohen's "day job" was serving as the Rivers Advocate for the Massachusetts Department of Fish and Game's Division of Ecological Restoration, where one of his areas of expertise was in riparian vegetation. Now Russ has more time to pursue his passionate avocation, which is connecting to nature via his taste buds, and assisting others in doing the same.  Russ is now playing the role of "Johnny Appleseed" for edible native species. He has set up a small nursery in Weston, MA where he grows/keeps over 1,000 plants that he propagates from seeds, as well as obtains from other sources, such as the Native Plant Trust.
We hope to see you there! 
Event Category
Adults
Kids
Teens