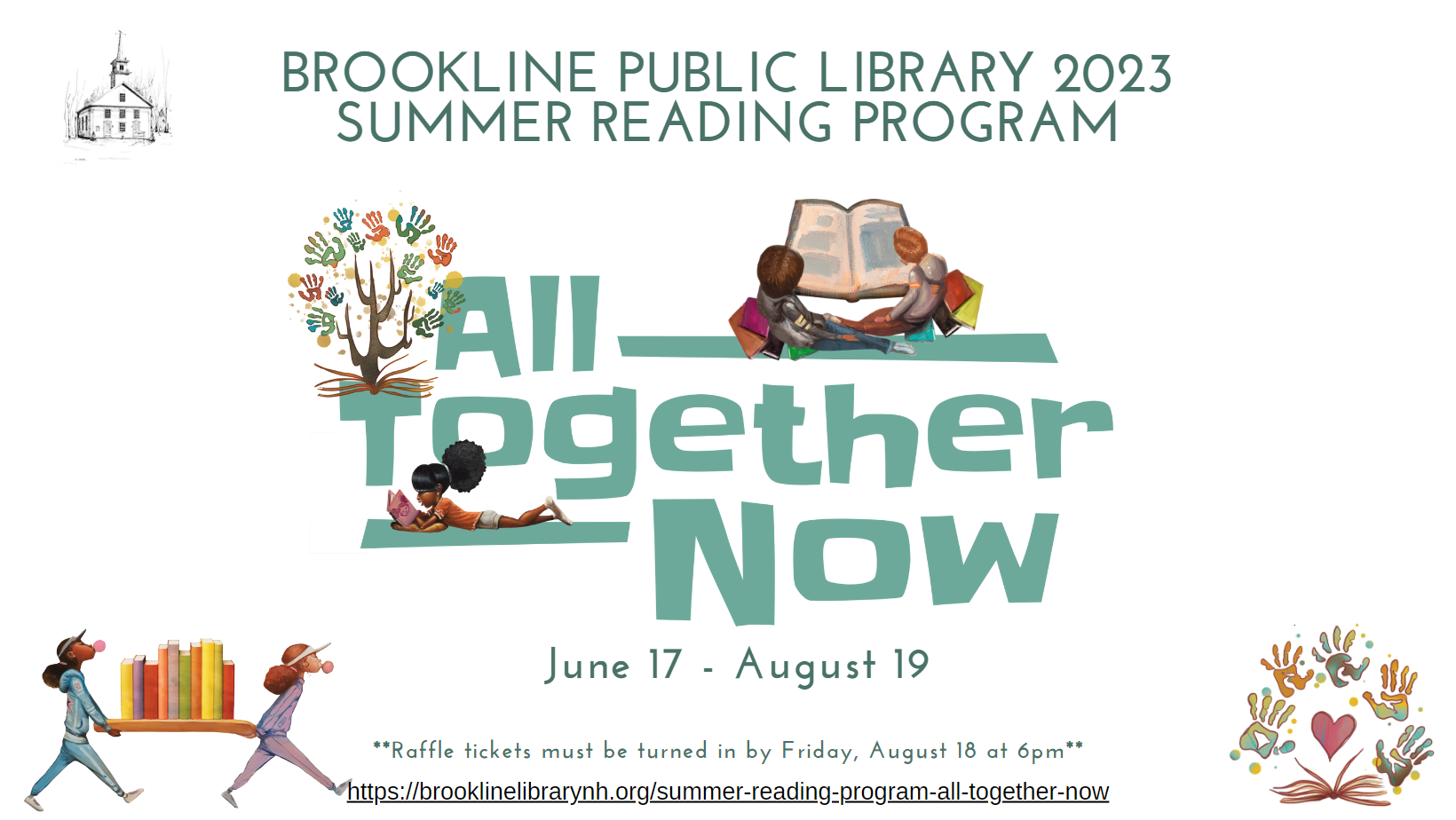 2023 Summer Reading: All Together Now
Saturday, June 17 - Saturday, August 19
2023 Summer Reading is here! This year's theme is All Together Now. This focuses on community, kindness, and friendship. We encourage you to participate with your family and make it a summer activity for everyone. Throughout the summer, we will be offering programs for the entire family so everyone can get involved. 
 Toddler, Children's, Tween and Teen Program
The Summer Reading Program for ages 2-18 is run through the Youth Services Department. Register your child any time on or after June 17. Participants will get a total of four bingo sheets to work on throughout the summer for the following dates: June 17 - July 7, July 8 - July 21, July 22 - August 4, August 5 - August 19. The bingo sheets are uploaded at the bottom of this page if you wish to print them at home. 
There are three options for bingo cards to work on, depending on age: Early Readers (ages 2-5), Elementary Readers (ages 6-11), and Teen Readers (ages 12+). 
Readers will collect raffle tickets and brag tags for completing bingo sheets designed for all ages and levels of readers. All participants will receive a bonus raffle ticket and their first brag tag at sign-up. A brag tag is a Summer Reading-themed dog tag charm on a chain ball necklace. 
Participants will receive a prize for every 2-3 week period that they complete at least one bingo. 
The available prizes are as follows:
Complete one bingo row/column/diagonal to receive ONE raffle ticket.
Complete the ENTIRE bingo sheet (get a blackout) and receive the total number of rows in your bingo +1! (Early Readers: 4 total, Elementary: 5 total, Teen: 6 total). 
Doing any five from the Kindness Bingo will earn you an extra raffle ticket.
A brag tag will be given for each completed bingo.
Halfway through, participants will get to choose one book in the library's collection to be dedicated to them.
Participants will also get to choose a free book after turning in their final bingo sheet at the end of Summer Reading.
The raffle tickets will be used to enter drawings for gift certificates to local eateries, stores, and toyshops, as well as Lego sets, Squishmallows, and Pokemon cards.
The deadline to submit raffle tickets is Friday, August 18 at 6pm. The drawing for the raffle tickets will be done the next day at our Summer Reading wrap-up party on August 19th. 
Program Highlights
June 17, 1pm @ RMMS: Summer Reading Kick-Off with Wildlife Encounters and EcoCenter.
Field Trip Storytimes, every Monday at 11am from June 12 - August 14. The schedule is uploaded at the bottom of this page.
Lunch with the Librarians, Wednesdays at 11:30am beginning June 28th. 
7th Grade pizza parties on Friday, June 30 and Thursday, August 24, co-hosted with Hollis Social Library. These are programs for rising 7th graders from each town to meet their new classmates before they start at HBMS.  
RMMS Blue Jays nights on the second Thursday of the month at 6pm
CSDA Wolves nights on the fourth Thursday of the month at 6pm.
July 28, 5:30-7:30pm @ RMMS: Michael Albert, a collage artist. This two-hour program is part author talk, part hands-on collage workshop.
August 19, 1-3pm @ RMMS: Summer Reading Finale Party with Talewise.